Profile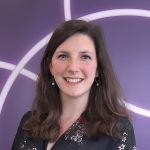 Sabine Giron
My CV
Education:

Mines Douai University (France) and Cranfield University (UK)

Qualifications:

Master of Engineering & Science

Work History:

I did a couple of internships in factories in France

Current Job:

Research engineer in the Robotics & Automation Team
About Me

Hi/Bonjour! I'm Sabine, 26, French born and raised, and now living in Ireland to work as a research engineer in robotics. I'm really excited to meet you all and to chat about science 🙂

Read more

Originally from Toulouse, France, I moved to Ireland 3 years ago to become a research engineer in Robotics 🤖. Back in France I studied general engineering (so a bit of everything!) and did a year in the UK where I studied drones.

In my spare time I like playing rugby 🏉, reading 📚, cooking 🍳, being outside 🌳, and looking for dogs to pet 🐶(I can't have one just yet!)

Read more

Imagine the inside of a factory: lot of people are doing different things to create things, such as objects, food, or medicine!

Sometimes, there are people in the factory that have to do the same thing all over again, all the time (repetitive work) and sometimes it can be dangerous for the muscles and bones when done for a long time.

For example, picture yourself picking a chocolate chip and putting it on top of a bun. Quite funny right? Now imagine having to do that 1 million times per day, you'll be doing that ALL THE TIME, all day long, every week for years …pretty boring and tiring isn't it?

Well, this is where robots can help. If you have a robot that can do that for you while you do something else that is more interesting and less repetitive, it makes life so much better!

My work (and my team's work!) is to make people in factories understand how robotics can help them and develop prototypes with robots to solve their problems.

I work mainly with robot arms that can detect the presence of people around it. In that way, there is no need for cages and barriers around the robot and the robot can work right next to people.

Here below are some pictures of prototypes that my team developed using existing robots:

My Typical Day

I don't have a typical day! Some days can be building a prototype with a robot, the other can be programming the robot, and another can be creating a video to show what robots can do

What I'd do with the prize money

With the prize money I would like to organise an event in our lab for schools to come and to see all the robots we have and to learn how to program robots!

Read more

Robotics is a very interesting field and my colleagues and I would LOVE to show you what we do in the labs and what types of robot we have!

With the prize money we would like to welcome a few schools for a day, to do a visit of the labs in Mullingar and do fun activities around robotics and engineering.

The money would be used for transport and food, and if we have any left – to buy an educational robotic kit to teach schools and students such as you to assemble and program a robot!
My Interview

How would you describe yourself in 3 words?

Enthusiastic, curious, open-minded

What did you want to be after you left school?

A pilot

Were you ever in trouble at school?

I loved chatting in class… Teachers didn't usually approve of it!

Who is your favourite singer or band?

Nina Simone

What's your favourite food?

Breakfast food! I love pastries, crepes, pancakes, and all these delicious food

What is the most fun thing you've done?

Hiking 4 days in the jungle - the nature leaves you speechless

If you had 3 wishes for yourself what would they be? - be honest!

Have as many pets as I want. Being able to teleport to anywhere in the world. Making people happy and peaceful by the touch of a hand

Tell us a joke.

What is Jay Z's favourite cheese? Brieoncé
My profile link:
https://sodiumn19.imascientist.ie/profile/sabinegiron/
---
---